7 days tour from Marrakech 
Overview:
This 7 days Marrakech desert tour is a chance to immerse yourself in the most magnificent portion of the Moroccan Sahara desert (Merzouga), and study the contrast and diversities presented by its diverse landscapes as you visit historic towns, ports, mountain gorges, and valleys. Morocco Tour Operator can provide you with a vacation in Morocco that will exceed your expectations. This itinerary 7-day/6-night private tour to Merzouga Desert from Marrakech is the ideal opportunity to travel through time and learn about the country's fascinating history. In addition, participants of this 7-day package desert trip from Marrakech get to explore city empires with old Medinas, walls, and tiny, maze-like alleyways. Besides, hang out in souks (traditional markets), which sell anything from handwoven crafts to regional cuisines. Then, stay in Riads or typical historic residences.
The nicest aspect of booking a tour with us is that participants can customize their itinerary and departure times. We customize the tour based on your interests and requirements. In addition, we offer trips in a 4WD vehicle or van to ensure comfort and convenience, particularly when travelling through scorching deserts.
Marrakech desert trips / desert tours from Marrakech / Morocco tours from Marrakech / Marrakech to Merzouga desert tour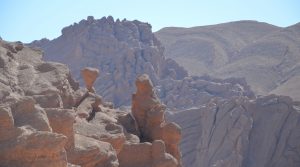 7 days tour from Marrakech
Starting point: Marrakech airport
Ending point: Marrakech airport
Departure time: 8/9 am
Duration : 7 days / 6 nights
Highlights:
Cross the High Atlas mountains
Enjoy panoramic views
Authentic Berber communities
Ait ben Haddou Kasbah
Dades Valley
Trek through Todra gorge
Camel trip
Overnight stay at the desert camp
Watch the stars
Beautiful sunrise and sunset in the desert
Draa Valley

Program Itinerary
Day 1: Airport – Marrakech
Our driver will pick you up from the airport, and you will have the rest of the day to unwind while enjoying Jemaa el Fnaa and the souks on your own.
Day 2: Guided tour
You will enjoy a sightseeing guided tour of Marrakech Medina with an experienced local guide today (the day before departing Marrakech on a 7-day tour from Marrakech). The famed Koutoubia Mosque, the Medina, and its souks and narrow alleys are all included in the tour. Thereafter, Visit the Saadian the Bahia Palace, Ali Ben Youssef Koranic School, and the gorgeous Majorelle Gardens to learn more about Marrakech's secrets and unique sights. Then, return to the Medina and your Riad.
Day 3: Marrakech – Skoura – Dades gorges
Our 7 days Marrakech desert tour will depart at 08:30 a.m. from Marrakech for the Dades Gorges, crossing the famous Tizi N'Tichka pass with far-reaching views across the mountains, to the High Atlas and Berber villages. Then it's on to Ouarzazate, often known as "The Gate to the Desert," where you'll see the Kasbah Taourirt and the Atlas Studios. Because of its position and the nearby castles, this small city has attracted a number of foreign film producers. Until it was dubbed the Hollywood of Africa. After that, we drive via Roses and Dades valley on our way to the Dades gorges. In Dades, you will enjoy a traditional Moroccan dinner and overnight in Riad or Hotel.
Day 4: Dades gorges – Erfoud – Merzouga desert
After breakfast, return to the valley to visit "the monkey toes," a beautiful rock formation. Then we'll leave the Dades valley and travel to Tinghir and the Todra gorges, where we'll view stunning panoramas of old clay Berber towns perched above the canyon. When you get in the Todra Gorges, you'll walk along the 300-meter-high red cliff, where many rock-climbers come to practice their favourite sport. We'll continue our journey to Erfoud for lunch before departing for Merzouga's beautiful sand dunes of Erg Chebbi. Once we arrive, an expert camel driver will be waiting to take us on a camel ride across the Erg-magnificent Chebbi's wavy sand dunes. Thereafter, you'll take a break to rest, take in the scenery, and go sandboarding.
After that, spend the night in a typical Berber-style nomad tent under the stars in a prepared desert camp. Then, a great dinner will be served, followed by a music celebration around the fire.
Day 5: Excursion in Sahara desert
After breakfast and shower at the desert camp, you'll begin your camel walk back to the departure point, where you'll meet your driver and begin a discovery tour of the Merzouga area, which includes a visit to the Merzouga seasonal lake, which is home to migratory bird groups, including flamingos. Also, there's a village where practically all of the residents are dark-skinned people who have come from Sub-Saharan Africa to learn about Gnawa music and culture. Thereafter, we will stop in a small desolate hamlet of Mefes with its lead mines and minerals on our way to a nomad family. Then, dinner will be served at the hotel where you will be staying. Bed and Breakfast with Dinner.
Day 6: Merzouga – Draa vally – Ouarzazate
After breakfast and a shower in the hotel, we depart Merzouga and begin our journey to Ouarzazate through a different route that passes through Berber communities in the Atlas Mountains such as Alnif, Agdz, and the Draa valley. Until we reach in the evening in Ouarzazate. Dinner and a night in a riad in the area.
Day 7: Ouarzazate – Ait Ben Haddou – Marrakech
On the last day of our 7-day travel from Marrakesh, after a visit to the studios, we will leave Ouarzazate in the morning for Marrakech, traversing the High Atlas Mountains through the UNESCO World Heritage site of Ait Benhaddou Kasbah, where you will have the opportunity to explore the famous Kasbah in Morocco ( Ait Ben Haddou Kasbah). Thereafter, take the road of Telouat village, which offers magnificent views of gorges, mountains, and various Berber towns nearby, and arrive in Marrakech in the evening.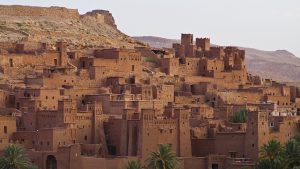 What's included in Our 7 days Marrakech desert tour?
Transfers from and to the airport
Accommodation in a private room at a hotel/riad (dinner & breakfast included)
1-night stay in a private tent in a desert camp
Experienced English speaking driver
Marrakech sightseeing tour with a local guide
Camel for each persona
Moroccan mint tea at the camp
Sandboarding in the dunes (if desired)
Stops for panoramic views, photos, and free time for lunch
What's not included?
Lunches
Drinks
Entrances to monuments ( optional)
Diner in Marrakech