15 days Itinerary desert tour from Casablanca
OVERVIEW:
If you're planning to spend some time in Morocco and want to see everything that the nation has to offer, this is the place to be. Then don't think twice about booking this fantastic 15-day Morocco travel package from Casablanca. It contains everything from the historical capitals of Rabat to Chefchaouen, known as the "Northern Blue Pearl," Fes, Meknes, and Marrakech, as well as spectacular views of the Atlas Mountains, Berber villages, the Sahara Desert, and the coast. This 15 days tour from Casablanca itinerary in Morocco includes a camel ride across the Erg Chebbi dunes, the greatest dunes in the Moroccan Sahara Desert, as well as an overnight stay in Berber tents. Take in the views of beautiful valleys, gorges, old Kasbahs, and the surrounding landscape.
15-day desert trip from Casablanca to Chefchaouen and Marrakech / Casablanca to Marrakech via Tangier and Merzouga desert / Itinerary 15 days tour from Casablanca to Merzouga Desert and Marrakech
HIGHLIGHTS
In Rabat, visit the magnificent Hassan Tower.
Explore the ancient ruins of Volubilis, the Roman empire's capital.
Take a stroll through Chefchaouen and chat with the locals.
Take in the stunning scenery of the Atlas Mountains.
Discover Ait Ben Haddou's heritage village and the Kasbah of Amridil.
Enjoy the stunning beauty of the Dades and Ziz valleys, as well as the Todra gorges.
Spend a night in the heart of the Sahara desert on a camel ride through the golden dunes of Merzouga.
Explore the rich history and architecture of Marrakech and Fes' old medinas.
View and walk along Essaouira's Atlantic coast.

PROGRAM ITINERARY:
Day 1: Casablanca – Rabat
We will meet you at the airport or in your accommodation in Casablanca, and drive you to Rabat. Before that, we will visit the Hassan II Mosque in Casablanca, which is the largest mosque in Africa. Thereafter, we continue to Rabat, which is Morocco's capital, where you'll view the Hassan Tower and walk through the Oudaya Kasbah before checking into a hotel or riad for the night.
Day 2:  Rabat – Tangier
We will drive to Chefchaouen via the Rif mountains after breakfast in your riad. The majority of the drive will be along the coast. Our first destination will be in Asilah, where you will have time to explore. Asilah is notable for its yearly art festival, with famous artists from all over the world painting most of Medina's walls. After that, you'll travel to Tangier, which has traditionally been an international melting pot as Europe's gateway to Africa. Take a tour of Tangier to see the bustling medina and the city's surroundings, as well as the breathtaking view of the Mediterranean and Atlantic oceans colliding.
Day 3: Tangier – Chefchaouen
After breakfast, our 15 days desert trip from Casablanca to Marrakech and Essaouira will take the road to Chefchaouen, a charming mountain village nestled in the Rif Mountains' beautiful valleys. Chefchaouen is known for its bright blue-washed houses and is a favourite tourist and Moroccan destination, especially during the hot summer months. Chefchaouen's twisting pathways and narrow alleys are worth exploring. Chefchaouen is where you'll spend the night.
Day 4:  Chefchaouen Sightseeing
We'll start exploring Chefchaouen after breakfast (known as the blue city ). It is a little, charming village that is clean and fresh. You'll stroll through the old Medina, which has an old rebuilt kasbah, and Plaza Uta Hammam, the town's central square, which is a great spot to unwind. Chefchaouen is a beautiful spot for amazing photographs, with its steep, narrow cobblestone alleyways and whitewashed buildings, blue doors and windows, and mountains as a backdrop. After lunch, you'll visit Ras Elma's natural spring water. This town, unlike others in Morocco, was occupied by Spain. As a result, the Spanish and Moroccan cultures had a strong influence. You'll have the chance to mingle with the locals, meander through the souks (markets), and learn about the culture. Overnight in Riad or Hotel.
Day 5: Chefchaouen – Volubilis – Fes
After breakfast, our 15 days desert tour from Casablanca to tangier and Marrakech will take the road to Fes via Ouazzan and Morocco's famous Roman remains ( Volubilis). After a few hours of driving, you'll arrive in Volubilis, the well-preserved Roman empire dating from 225 BC, where you'll find some of Morocco's most stunning mosaics dating from the 3rd century BC. You will be given a guided tour of the site and will learn a lot about the Roman Empire while doing so. After that, we head to Meknes, Morocco's Ismaili capital. In Meknes, we visit the interesting Bab Mansour gate, which was erected by Sultan My Ismail. Then proceed to Fes via the highway. Your Riad in Fes will be your home for the night.
Day 6: Fes Sightseeing
After breakfast, you'll be greeted by a local guide who will take you on a walking tour of the city. Firstly, you will visit the Royal Palace, which is located on the outskirts of Medina. Then, the Jewish Quarter "Mellah" (Palace Gate) dates from the 14th century. You will also go to the pottery cooperative to see what they have to offer. After that, will see Moroccan arts and crafts, you'll go over the most important points. Also, the key cultural and historical sites within the medina, a magnificent architectural marvel, is one of the points of interest. In addition, the Big Mosque, Inania Medersa, Blue Gate, Karaouiyine Mosque, tanneries in Chouara and Medersa Seffarin are places where people work on leather. Then, attarin Medersa and the Najarian Medersa are architectural marvels. Overnight in riad or hotel.
Day 7: Fes – Ifran – Merzouga
After breakfast, we'll pick you up from your hotel or Riad and drive south to Ifrane (Switzerland of Morocco) and then to the Middle Atlas Mountains, stopping by a cedar forest where you'll be able to take some fascinating photos with the Barbarian Apes. We'll continue our 15 days desert tour from Casablanca through the Atlas Mountains, enjoying the landscapes of Midelt, after lunch. When we arrive, we shall be greeted with a cup of tea. Overnight stay in a hotel or a riad.
Day 8: Excursion in the desert – Desert camp
After breakfast, you will start your incredible journey along the dunes, passing by the oasis, and stopping to see an old irrigation system that locals still use to irrigate their fields in the oasis, then continue to Khamlia village to listen to Gnaoua musicians, then a short drive will take to a small village called Tisserdmin where is an amazing panoramic view and you can see the fossils in a big Mountains rocks. After that, drive back to the hotel to prepare yourself for the best adventure. Here, you will take camels into the sand dunes, where you will watch the sunset of a lifetime. Then reach the camp, where you will spend the night and have a party with drums music under a starry sky after dinner.
Day 9: Merzouga – Erissani – Todra gorges
We'll ride the camels back to Merzouga after breakfast at the desert camp, where you can shower if necessary. To begin, we'll go through Tafilalt's thousands of palm trees, landing in Rissani. In the southeast of Morocco, this city offers one of the oldest and most traditional markets. After that, we'll proceed to Erfoud to investigate certain worships that produce various types of fossils. We'll arrive in Todra Canyons, one of Morocco's most beautiful locations, in a short time. Finally, the third day of our 15-day desert tour from Casablanca will culminate in Todra Gorges, where we will spend the night.
Day 10: Todra gorges – Dades gorges – Ouarzazate
Today, we will travel to Ouarzazate as part of our 15-day itinerary from Casablanca to Tangier and Marrakech via Merzouga desert. On the route, we pass over 1000 kasbahs, some of which are still fortified, while others have been reduced to rubble. On the route, we'll stop at Dades Valleys and pass through the Skoura palm grove. We'll finally arrive at Ouarzazate, where we'll spend the night.
Day 11: Ouarzazte – Ait Ben Haddou Kasbah – Marrakech
Our 15-day journey from Casablanca to Marrakech is continuing today, with a stop in the red city. First, after breakfast, we'll take a stroll through Morocco's Hollywood. We will go to the Atlas Studios, which is the primary attraction. In general, it is regarded as one of Africa's most important filming locations. We'll also go to the fortified village of Ait Benhaddou, which is a Unesco World Heritage Site. After that, we'll continue on our trip, passing through Telouet for lunch. Finally, we will arrive at our destination, when our journey will come to a close.
Day 12:  Marrakech Sightseeing
Today, you will be taken on a guided tour of Marrakech Medina by a local guide, which will include stops at the Saadian tombs, Bahia Palace, Dar Si Said Museum, and the Koutoubia Minaret. Visit the vibrant Djemaa El Fna square in the afternoon.
Day 13: Marrakech – Essaouira
After breakfast, depart Marrakech for a leisurely panoramic drive into the Moroccan countryside, passing by gorgeous vistas, wild argan tree orchards, and villages, as well as some calmly grazing camels and goats. Tree-climbing goats might be seen eating argan fruits and hopping from branch to branch. Make a pit stop at a local co-op to see argan oil for cooking and cosmetics from Berber women.
Just in time for lunch, arrive in Essaouira, once known as Mogador by Portuguese settlers. You have free reign to explore at your leisure while you're here. Lunch can be had at one of the numerous genuine eateries that provide freshly caught fish while overlooking the sea. After lunch, visit a city harbour to photograph candy-coloured fishing boats and a little fish market right there in the port. Overnight in Riad or Hotel.
Day 14: Essaouira –  Oualidia – El jadida
After breakfast, continue your journey from Casablanca by leaving Essaouira and arriving at Oualidia for a short rest and lunch by the lagoon. The oysters are well-known throughout Morocco. Thereafter, reach El Jadida, an old Portuguese city in Mazagan that has been designated as a UNESCO World Heritage Site. Explore the medina of El Jadida, visit the Portuguese cistern and fortifications, spend time beyond the medina walls in the modern city, or go for a walk on the beach if time permits. Being alone provides a sense of security and comfort. Dinner will be served at the hotel.
Day 15: El jadida – Casablanca
Depending on your departure schedule and interests, we can drive from El Jadida to Casablanca in the morning. Arrive at the airport and be dropped off. Your trip from Casablanca to Casablanca has come to an end.
You can incorporate a stay in Casablanca in your itinerary if your travel schedule allows it.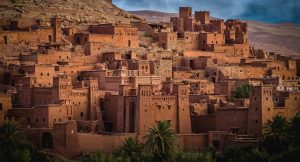 What's included?
Pick-up and drop-off at/from your lodging
Camel Trekking (Camel per person)
a private modern car with air conditioning and an experienced English speaking driver/guide
13 nights in a private room in a hotel/riad with a sunset camel ride (At your preferred room type)
Spend a night in Desert Camp(At your preferred tent type)
(Breakfast x 14) (dinner only in Merzouga desert, desert camp, Todra gorges, Ouarzazate)
4×4 car for the desert excursion
What's not included?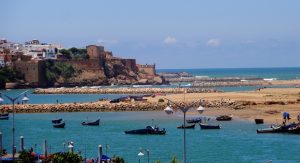 *Note:
Our suggested Morocco Tours from Casablanca can be customized to meet your specific preferences and desires. Contact us at any time.