Morocco tour operator
Definition : 
Morocco Tour Operator is a travel agency in Morocco. Here, we offer a range of tours throughout Morocco, we customise tours to suit you so you can discover and experience the culture, diversity and magic of Morocco. Also, on our trip, we will discuss the dates, duration, likes, dislikes… Relating to our experience and knowledge of Morocco. Moreover, we can design a tour specifically for you. Although we have provided several examples below, designing a friendly, affordable and enjoyable tour is simple, fast and can be adjusted according to your preferences. Our mission's in Morocco are: Private Tours, Group Tours, Morocco trips, Sahara Desert Tours, Marrakech desert trips, Fes desert tours, Merzouga trips, Errachidia tours, Casablanca tours, Tour Guide, Imperial Cities Tours, New year Tours,  Honeymoon Tours, Birthday celebrate Tours, Morocco Tours, Wedding Tours, Camel ride in the Sahara desert, Excursions/day trip.
Also, offers Special luxury VIP Morocco tours, ideal itineraries for families travelling with young children, affordable tour packages for Students, counselling, assistance and information… We individually created these tours for those who want to enjoy a truly private tour experience in Morocco. In addition, you will enjoy travelling with our own private, friendly and comfortable guides. In addition, we cater for small groups of 1 to 7 travellers and also large groups. Also, we have mapped out a number of beautiful routes in Morocco that show you the highlights of the country at a leisurely pace. You will stay in small-scale and typically Moroccan hotels, where possible we book family rooms. Almost all hotels have a pool…

Travel to Morocco
When you travel to Morocco, you will find yourself in a completely different world. This world offers all the ingredients for a special vacation experience: beautiful cities with lively squares and narrow alleys, ancient kasbahs that take you back to a distant past, a beautiful countryside with mountains, deserts and wonderful beaches. Travel to Morocco with your children, immerse yourself in the Arabic culture and be surprised by this beautiful country, which can rightly be called a fairy tale from A Thousand and One Nights!.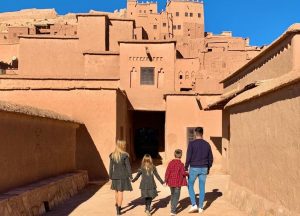 Morocco tour operator with kids
During your trip through Morocco, take your children on a trip through the mountains on a donkey or go through the desert on a camel. In the evening you can listen to the music and stories of the nomads under a beautiful starry sky. Stroll through the narrow alleys or relax on one of the lovely beaches; there is something for everyone! That's what makes a trip to Morocco with the kids so fantastic.
The services of  our Morocco tour operator:
The services start at your accommodation. Our drivers/guides will be waiting for your peace of mind and comfortable from arrival at the airport, Riad, Hotel or point agreed with us. Besides, Include transportation, guided excursions throughout Morocco, the accommodations. Then, whether you are travelling solo, private or in a group, looking for a cultural or adventurous experience… We are ready to customize the best itinerary of the best places for your trip to Morocco. Also, if you want to make adjustments to the trip, this is of course possible. We will be happy to make you a tailor-made offer!
  Highlights of Morocco tour operator:
A cross the Atlas Mountains.
Hike to traditional mountain villages and learn about Berber culture.
Travel on the road of 1000 kasbahs between Marrakech and Sahara desert.
Join our Sahara desert tours from Marrakech, Fes, Casablanca and wherever in Morocco.
Ride the camel and spend a night in a desert camp.
Explore the ancient adobe village of Ait Ben Haddou, the Roman ruins of Volubilis and both UNESCO World Heritage sites.
Visit the blew city, the largest mosque in Morocco and the imperial cities.
Tours from Casablanca
We organise tailor made Morocco guided tours from Casablanca for private small and large groups. These type of tours are very convenient if you want to have your own guide who can offer the best.
Tours from Tanger
It is our pleasure to welcome you to our Tangier private tours - as we organise tailor made trips and we specialize in providing and organizing customised desert excursions...
Camel Trekking Merzouga Desert