3 days desert tour from Fes to Marrakech:
3 days from Fes to Merzouga desert and Marrakech :
Erg Chebbi Dunes in the Merzouga Desert might be your best option if you want to see sand dunes and unforgettable sunsets and sunrises. It is the most convenient stay on this itinerary. The route to Erg Chebbi through Merzouga is the perfect route for a 3-day desert trip from Fes to Marrakech. This 3 days Fes to Marrakech desert tour is your perfect choice to enjoy the cedar forests, camel trek and spend a night at Sahara desert camp, exploring the gorges of Todra and Dades, visit the UNESCO Kasbah and drive into the High Atlas Mountains to Marrakech… Trips from Fes to desert and Marrakech / Desert trips from Fez to Marrakech/ Fes desert tours / Travel from Fes to Marrakech via Merzouga desert.
Overview:
Our 3 days tour from Fes to Marrakech via Merzouga desert is a great option the travel between two of the beautiful imperial cities in Morocco and discover its ancient history. Also, it offers you the chance to have a real Sahara desert experience by camel trek, magic sunset and sunrise. In addition, night in Sahara desert camp with Berber music around the fire and under the sky full of stars. Moreover, it is your occasion to be entertained by the Atlas Mountains, Berber Villages views, the UNESCO kasbah, Dades Gorges and Todra Gorges. Also, the cedar forests and the Barbary apes.
Highlights:
Cross the Middle Atlas Mountains and their cedar forests
Drive along Ziz Valley and palm trees
Spend an unforgettable night in a luxury or nomad desert camp
Walk in the Gorges of Todra
Drive along the road of 1000 kasbahs and Sakura palm groves
Visit the Kasbah of Ait Ben Haddou
Cross the High Atlas Mountains and enjoy the panoramic views
Program itinerary of our 3 days Fes to Marrakech desert tour:
Option 1:
DAY 1: Fes – Azrou – Midelt – Er-Rachidia – Erfoud – Merzouga:
On the first day of our 3 days Fes to Marrakech desert tour, we will travel through the clean city in Morocco which is called Ifrane or  "Moroccan Switzerland". Thereafter, you will visit the cedar forest of Azrou where you will also enjoy and feed the Barbary apes. After that, we continue to Midelt via the Tizi N'Talghomt road. Here, we will stop to enjoy the view of the capital of the apples before we reach  Ziz valley the second-largest valley in Morocco. Moreover, we drive to Erfoud or the capital of the dates and fossils, then to Merzouga desert where we start our camel excursion. Thus, you will ride camels and make a stop to enjoy the sunset of a lifetime on your way to the desert camp. After dinner, the staff in the camp will play some Berber music around the fire and under a starry sky.
DAY 2: Merzouga – Rissani  – Todra Gorges – Boumalne Dades:
The staff in the camp will wake you up at the right time of the sunrise to enjoy the red colour in the sky and sunrise. After breakfast, you will ride your camels back or 4×4 to the village of Merzouga where you will meet your driver. Thereafter, our 3 days tour from Fes to Merzouga desert and Marrakech continues to Rissani. Hence, we will visit its traditional market and we drive to Tinghir and visit the Todra gorges where we walk through its stunning rock walls (up to 300 meters). In addition, we visit the rock formation known as the "fingers of monkeys" in Dades gorges. Finally, we reach our stopping point in Dades Gorge where we will spend the night in Hotel or Riad.
DAY 3: Dadès gorges – Ait BenHaddou – High Atlas Mountanis Marrakech:
Today our Morocco desert trip from Fes to Marrakech will continue to Kelaa M'Gouna which is known as "Roses city". Then, we drive through Skoura oasis where we will enjoy thousands of palm trees. Thereafter, we will visit Ouarzazate city which is called the "Hollywood of Africa". In addition, we explore the Kasbah of Ait Benhaddou the famous Unesco kasbah in Morocco. After that, we cross the high atlas mountains through the Tizi n'Tichka Pass at 2260 meters. Here, we will stop in amazing panoramic views to enjoy the view of the Berber villages. Moreover, we stop to see the ladies of the Berber villages making the argan oil. Finally, we will arrive at Marrakech in the late afternoon, then our 3 days Fes to Marrakech desert tour ends when we drop you off at the red city either at your hotel or airport.
Option 2:
Day 1: Fes – Imouzar – Ifran – Aoufous – Merzouga desert:
Tomorrow we start from Fes and drive towards the south of Morocco. We stop in Ifrane, also known as Moroccan Switzerland, where we enjoy the beauty of the landscape and can take photos. In Azrou we watch the monkeys in the cedar forest and will have lunch in Midelt. In the afternoon we pass the Tizi n Talghammt pass and reach Errachidia. During the journey, we have a wide view of the Ziz valley. Our journey continues through Aoufous and Erfoud, known for fossils and dates. If you wish, you can visit a local fossil handicraft shop. Then we reach the Erg Chebbi dunes, also known as Merzouga dunes. After we get to the hotel, we get ready for camel trekking. We ride the camels into the desert for about 1.5 hours to watch the sunset. We then reach the camp where we will spend the night.
Day 2: Desert excursion – Rissani – Todra gorges:
You will be woken up very early to see the sunrise in the desert. After these wonderful moments, you will have breakfast and ride the camels back to Merzouga. We will start our journey by visiting Khamlia village where we will listen to special and traditional music for the Berber people who are original from Mali and Soudan. After that, we will visit the Nomad families who are still living in tents and explore their lifestyles. Besides, we will drive to Rissani to visit the famous local market. Then, we continue our trip to Todra gorges and explore the small Berber villages as Tourog and Melaab on the way. Thereafter, we reach Todra gorges which is a great stop to contemplate the beautiful canyon farmed by red limestone rock with vertical walls. Then, spend overnight in a hotel or riad in Todra gorges.
Day 3: Todra gorges – Kalaat M' Gouna – Ouarzazate – Marrakech:
After breakfast in the hotel, we continue our 3 days Fes to Marrakech desert tour towards Bomalen Dades and Kalaat M' Gouna which is called Rose city. Here, we will explore how the ladies of the city makes the Rosewater and we drive through the rose valley and Skoura to Ouarzazate, making a short photo stop with a view of the Kasbah of Taourirt and another stop near the Atlas film studios. Afterwards, we visit the Kasbah Ait Benhaddou and take a break to have lunch here. In the afternoon we drive towards Marrakech over the mountains of the High Atlas over the Tizi N´ Tichka Pass (2260 m). Our 3 days Fes desert trip ends in Marrakech.
Included in this 3 days tour from Fes to Marrakech via desert:
Pick up from your riad or airport in Fes.
Private comfortable A/C vehicle.
 Driver speaking English very well for this tour.
Camel trek – 1 camel for each person.
Accommodation in Riad/Hotel.
Night in luxury or nomad desert camp
Not included:
Airline tickets.
Lunches and drinks.
Entry fees & Tickets, Tips.
How to Reserve This 3 days Fes to Marrakech desert tour?
Contact us by email or WhatsApp:
Email: contact@moroccotouroperator.com
WhatsApp:+212678796461
Note:  
If you have only 2 days from Fes to Merzouga, click here.
Some destinations we will visit on our 3 days Fes to Marrakech desert tour :
IFRANE:
Ifrane (the nickname is Switzerland of Morocco) is a very clean city in Morocco's Middle Atlas Mountains. It is known for its alpine-style architecture, cedar forests, and it has an international university called " Al Akhawayn's university". Inside of the town, there is a lion statue, outside of the town there is a spring with several waterfalls. Then, in the west, there is  Ifrane National Prak, with its Atlas cedar forests which is home to rare Barbary macaques.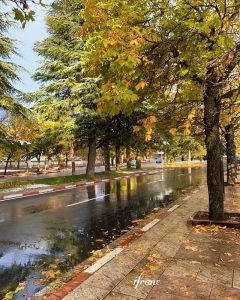 MERZOUGA DESERT:
Merzouga is a Berber village on the border with the Sahara. Every desert safari to the dunes leads past Merzouga. The village itself is quite small and the starting point for camel rides to the night camps in the desert. Normally, on your camel ride into the sunset, you will reach the desert camp after a few hours, where you can spend the night in comfortable tents. Thereafter, before going to bed, guests are served a Berber dinner, which is accompanied by music. After that, you can spend the night as you wish: explore the dunes or admire the starry sky. Since there is almost no artificial light in the desert, many stars will be visible in the sky.

TODRA GORGES:
It is containing a large palm grove with its kasbahs and its typical abode villages, where the river runs throughout the Todra oasis and its banks grow palm trees full of dates, olive trees and various crops. Our route continues towards the impressive gorge of the Todra Gorges, an obligatory stop to contemplate the great canyon, formed by red limestone rock with vertical walls, a whole stone paradise where it houses a river of crystal clear waters and its picturesque atmosphere what makes it an important destination for tourists.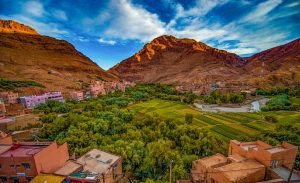 Kalaat M' GOUNA:
It is obtained by respecting the relationship: 1 kg of fresh roses for 1 litre of hydrosol, and not a drop more. To ensure very good conservation of the rose water, they have chosen not to separate it from its essential oil, which therefore acts as a natural preservative and to keep and condition it only in tinted glass containers. It is these few "details" that make our product 100% pure and natural floral water, with a fresh and bewitching fragrance, rich in a treasure with multiple benefits, then to verify that your rosewater has chances to have been produced with natural fresh roses, check the production date: it should be btw mi-April and mi-June, the rose blooming season.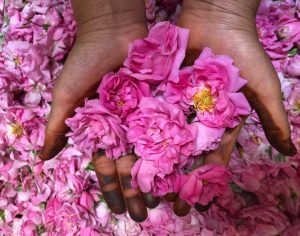 OUARZAZATE:
Ouarzazate (the nickname is the door of the desert) it is known as the "Hollywood of Morocco" is a city south of Morocco's High Atlas Mountains. it is known as a gateway to the Sahara desert from the Marrakech side. Moreover, the Ouarzazate area is a noted film-making location and west of the city is a UNESCO World Heritage Site. In addition, it is a primary tourist destination in Morocco for holidays, as well as a starting point for excursions into and across the desert.